Conveyancing Portal
Estate Agents
Mortgage Brokers
UK's Leading Solicitors
FREE To Access
Unique Conveyancing Service For Introducers
Enjoy all the traditional features of a conveyancing portal plus so much more
5* Conveyancing Service
FREE to use
Instant quotes
Add a referral fee
Review highly detailed case updates
5* solicitors | Legal Ready | Online Solicitor Reviews
Faster turnarounds
Strict SLA's & Policing by our legal team
FREE access to Online Discount Club for your clients
Compare Quotes
Compare industry-leading solicitor fixed fee quotes, no-obligation, & include no hidden charges!
Referral Fees
Choose your own referral fee with UK leading solicitors with leading accreditations & awards!
5* Service
Compare solicitors by price, location, online reviews, and legal ready status via a stress-free system
Client Rewards
Clients receive £100's of FREE rewards when they sign-up with our solicitors including Online Discount Club for life!
Simple to use online portal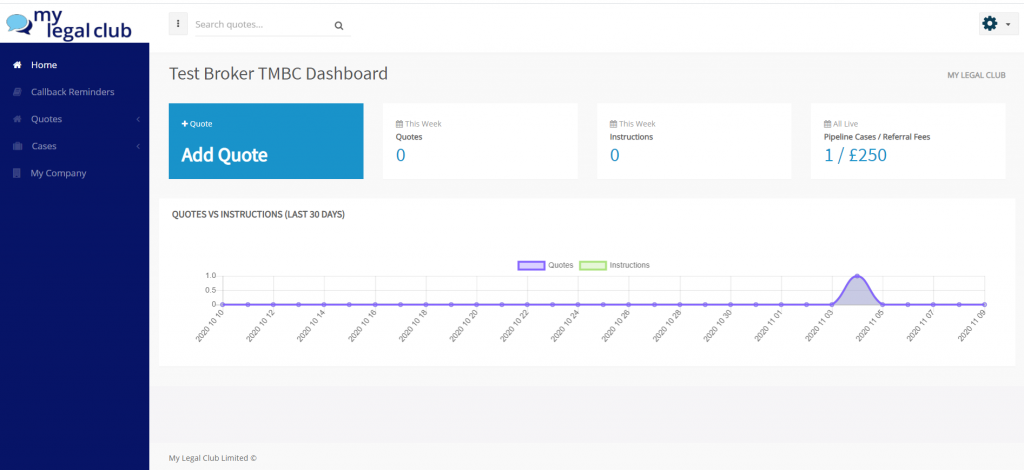 EXPERIENCE
We have decades of experience in the legal services sector and have created successful legal panels in many different areas of law.
SOFTWARE
Our software is unique, with unique update fields purpose-built by us.
SOLICITORS
Our solicitor panel is unique. We have solicitors available on our panel who refuse to work with other traditional conveyancing panels. Our firms are award-winning and hold all the leading industry accreditations.
QUALITY CONTROL
We have managed legal panels and solicitors' practices enabling us to draft effective service level agreements (SLA) ensuring consistency of service.
DATA ANALYSIS
Which firm's turnaround cases the fastest? Which firms are legal ready? Which firms provide the best service based on client ratings?
BUSINESS MODEL
For many panels, the lifetime value (LV) of the client is limited to one transaction. The LV to us is completely different. We want repeat business in other areas of law and via Online Discount Club meaning we must deliver a 5* service for our introducers and their clients.
Industry Leading Solicitor Panel
100% bespoke and cherry-picked by us
All firms are leading solicitors
All firms have achieved CQS status – The Conveyancing Quality Scheme accredited by the Law Society
Our panel includes Lexcel accredited award-winning solicitors combining incredible prices with 5* service.
All firms are committed to our SLA which is shared with introducers
24/7 support for brokers – we will handle any problem
Detailed analysis to ensure a 5* service
Legal ready firms increasing conversions and rapidly improving completion times
Simple Process
Register – remember it is FREE
Receive a welcome email with your login details
Login and request a quote
Compare leading UK solicitors on price, reputation, online reviews, legal ready status, and location
Add a referral fee – you choose!
Take client instructions and instruct!
Login to your cases for extremely detailed case updates
Receive payment when case complete
Clients receive rewards direct!
FREE Access | Online Discount Club
Clients who instruct our conveyancing solicitors benefit from FREE access to the Online Discount Club featuring unique discounts and savings from leading UK retailers. Check out the 30-second Online Discount Club video!
Here at My Legal Club, our panel solicitors strive in bringing high-quality service to all our customers with their professional legal services.
Request a solicitor call back via the below contact us form, text customer services on +447984388694, or email info@mylegalclub.co.uk.
The SMS service is integrated with our customer service emails and therefore 100% confidential, safe, and secure.