Committed to our Clients
My Legal Club is committed to providing great service to our clients. You do not have to be a member to access our highly recommended specialist solicitors.
Our members receive unique discounts on any legal fees with our highly recommended specialist solicitors.
We offer an alternative approach to legal services through our unique membership club. Members receive a host of benefits including discounts in the online legal library, a free will, discounts and savings with leading UK companies.
We also offer no obligation FREE trial periods.
Do not delay – join today!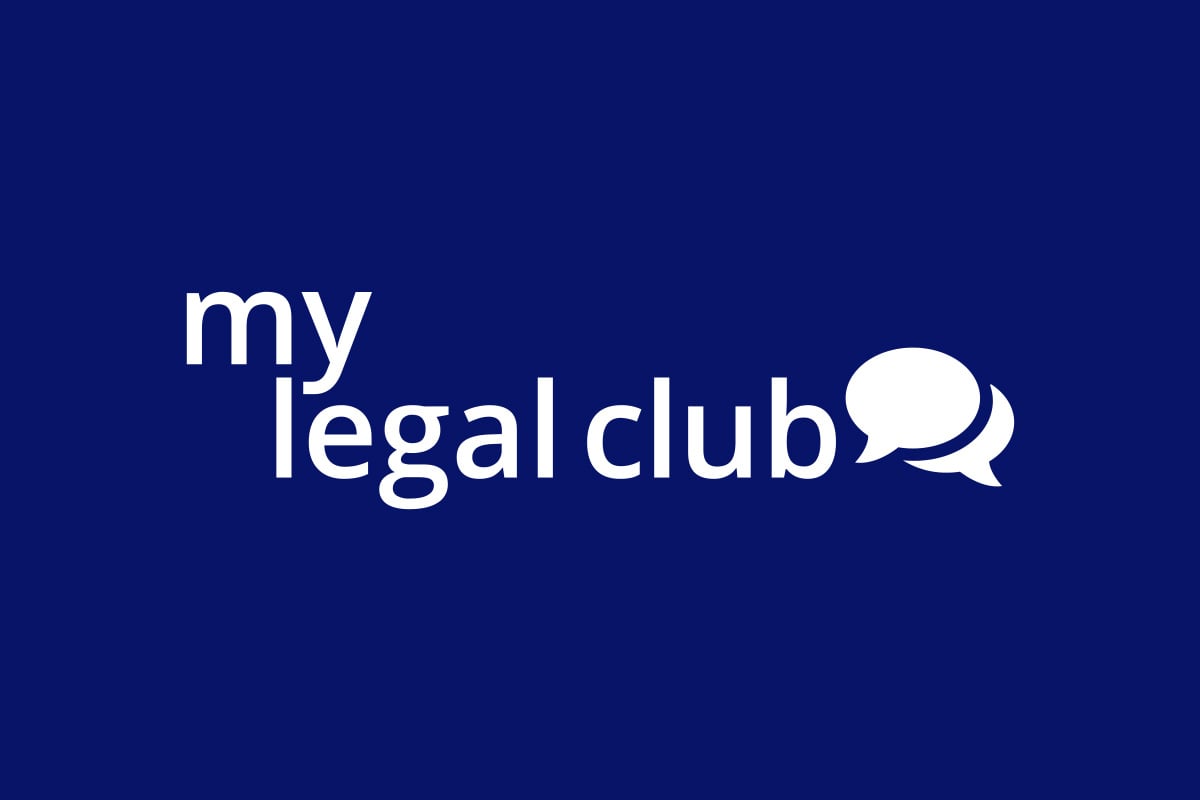 Divorce
Making the decision to separate or divorce can be one of the most stressful and upsetting experiences you will face. It is a time when you will be looking for advice and support to make sure that you're aware of all the options available to you.
Executing a divorce is not straightforward and My Legal Club offer an extensive range of options to help you. As an example, it might be that mediation, legal aid, online or DIY divorce, specialist solicitors are the best option for you.
At My Legal Club our recommended specialist solicitor would ensure that your divorce is handled in a sensitive and supportive manner. We are aware of the emotional toll that divorce can take on any children involved, and we would be mindful to keep their best interests at heart.
My Legal Club have a strict code of standards for customer care and support. All our highly recommended solicitors have agreed to abide by our code of standards. We will undertake regular checks to ensure that all our members are receiving the high levels of service we, and our panel of solicitors, are committed to providing.
Did you know?
Did you know up to 50% of divorces are rejected every year due to errors in the divorce forms? That is a staggering statistic and an issue we at My Legal Club want to ensure you avoid.
Did you know taking the wrong advice, or using the wrong DIY/online divorce pack can leave you open to claims in the future even though you have been divorced?
How we can help
You do not need to be a member of My Legal Club to benefit from the divorce services we offer.
We would of course recommend being a member as you will receive unique discounts against any legal fees with solicitors. You also receive a discount against our online divorce packs in our online legal document library you can locate here.
If you are thinking about divorce we can help in the following ways:
Via one of our highly recommended solicitors
Speak with one of our carefully selected panel of specialists on hand to advise you. It may be that you require their services due to an online, or DIY, divorce not being suitable. Remember that members of My Legal Club also receive a unique discount against any charges or fees agreed with the solicitor. Our solicitors will also advise you about mediation.
Via our online legal document library
You can access our Divorce pack and complete this interactively by filling out online questionnaires. The questions, and document, changes as you answer the questions posed. There are plenty of simple to read guidance notes and additional information at every stage.
Our recommendation
Our recommendation is to always seek legal advice in first instance.
Speak to one of our highly recommended solicitors and then consider your options and what is the best fit for you and your situation. It may be that mediation and solicitors is the best option for you. Alternatively, it may be that a DIY/online divorce is the best option.
You can speak with our solicitors by contacting us via the contact us form on our website or via email at info@mylegalclub.co.uk.
Pros and Cons of using a solicitor
Pros:
Solicitors will advise you on mediation. If the mediation is successful then you can return to the solicitor and they will only charge you for drafting the documents required as a result of the mediation being successful
If things are not amicable then solicitors can help prevent further issues arising and hopefully reduce any animosity between the parties
If children, assets, finances are involved solicitors can provide you with invaluable guidance and support
If you can't come to an agreement with each other or if there are problems with costs, such as who should pay the divorce fee, you should consider using solicitors
A solicitor can help you decide on which of the grounds for divorce you want to use and advise you on what evidence will be required
Solicitors will speak to your partner and/or their solicitor, so you do not have to
If the matter proceeds to court the solicitor will speak on your behalf
Your divorce will be far more likely to be accepted by the court
Cons:
Costs will increase (when compared to alternative options such as DIY/online divorce)
The process can sometimes take longer to complete
If the wrong solicitor is selected they may use a hammer to crack a nut and frustrate / anger the other party. (panel solicitors of My Legal Club have been cherry picked to avoid this issue)
Even if you have a fantastic solicitor there is no guarantee your partner will instruct a friendly solicitor who aims to secure amicable solutions
Pros and Cons of a DIY/online divorce
Pros:
If the divorce is straight forward, researched correctly, and executed correctly it can be a very simple process
Save time. The process can be completed very quickly either online or using our online legal document library
Greater flexibility. You can execute the divorce at times which suit you e.g. no time off work is required
Save money. The savings can be thousands of pounds when compared to using solicitors
Amicable process. If the situation between the parties involved is amicable then there is no reason for there to be an increase in, or indeed any, hostility
Proven process. Thousands of people have executed DIY/online divorces to great success
Cons:
If children, assets, property, or finances are involved both protecting yourself and reaching an agreement the court will accept becomes more difficult without a solicitor
Many people are mistaken in believing a separation agreement is legally binding (it is not), and a divorce doesn't cut all your financial ties
It is highly likely you will still need a solicitor to draft the relevant Consent Order. In every divorce you will need a Financial Consent Order, or a Clean Break Order. The Government advise "you need to get a solicitor to draft a 'consent order' and ask a court to approve it – this makes it legally binding". Our highly recommended specialist solicitors will do this for you but there is a fee to pay. (our members receive a unique discount against such fees.)
If you remarry you may lose the right to make a claim
Lack of legal advice on critical issues, such as, pensions, property, ownership, maintenance (amounts and duration), how vulnerable are you to a claim in the future?
Lack of guidance on the grounds for divorce, no legal advice in respect of 'unreasonable behaviour examples'
Mediation
Speak to our highly recommended solicitors who will advise you in more detail regarding mediation.
Mediation isn't free, but it's quicker and cheaper than going to court. If you're on a low income you might be able to get legal aid to pay for some of the mediation.
Mediation would save money as a solicitor would only be instructed to draft the documents relating to the mediation agreement for the divorce.
Mediation is a way of reaching an agreement on any issues between you and your partner, with the help of an independent third person (mediator) who won't take sides. All issues are discussed, e.g. children, money, property etc.
No one can force you to go to mediation. If your divorce ends up going to court due to outstanding issues (because you could not reach an agreement) then you need to prove you've been to a mediation information and assessment meeting (MIAM).
There are some exceptions when you don't have to go to MIAM, e.g. if you've suffered domestic abuse.
If your partner doesn't want to see a mediator, then contact the mediator and explain the situation.
Are you entitled to discounts?
Legal Aid:
In recent years the Government made drastic changes to legal aid. This reduces the chances of receiving legal aid for divorce and/or mediation. Further guidance can be located here.
You may qualify for legal aid if you satisfy any of the below:
you or your family are at risk of abuse or serious harm, for example domestic violence or forced marriage
you're at risk of homelessness or losing your home
you've been accused of a crime, face prison or detention
you're being discriminated against
you need family mediation
you're adding legal arguments or bringing a case under the Human Rights Act
Reduction in court fees:
The court fee payable in all divorces is set at £550.00.
You may receive reductions or waivers in respect of the fee. Further information can be obtained here https://www.gov.uk/get-help-with-court-fees
Eligibility is subject to the below:
Savings
You need to have less than £3,000 in savings and investments if you're under 61.
You can have up to £16,000 in savings if your fee is between £1,000 and £10,000, or if you or your partner are 61 and over.
Benefits
You need to be on a low income, or on one of the following benefits:
Income-based Jobseeker's Allowance (JSA)
Income-related Employment and Support Allowance (ESA)
Income Support
Universal Credit (and you earn less than £6,000 a year)
Pension Credit (Guarantee Credit)
Scottish Civil Legal Aid (not Advice and Assistance, or Advice by Way of Representation)
Income
If you're not on any of those benefits, you need to earn less than £1,085 a month before tax if you're single, or £1,245 if you have a partner
You can earn an extra £245 on top of that for each child you have.
For example, if you have a partner and 2 children you must earn less than £1,735 to be eligible for help with court fees.
If your partner makes you uncomfortable/ threatened / scared
You can call Refuge or Women's Aid on 0808 2000 247 at any time
Men's Advice Line is also a charity that helps men suffering domestic abuse. You can call their helpline on 0808 801 0327 between 9am to 5pm, Monday to Friday
The basics
As with many situations, the process of divorce is a lot more cost-effective and straightforward if both parties are amicable. Also, there will need agreements over matters such as the family home, living arrangements, child maintenance, any shared businesses.
To begin divorce proceedings there are several factors that need to be satisfied, namely:
You have been married for at least a year
Your relationship has broken down and you satisfy one of the five grounds for divorce (see below)
You have a permanent home in England/Wales
You have a marriage that is legally recognised in the UK
Further information
Further information is included in the sections below.
Do not hesitate to get in touch with us via the contacts us forms or via email at info@mylegalclub.co.uk.
Members of My Legal Club receive unique discounts from our highly recommended panel solicitors, discounts in our online legal document library and many more great benefits.
Divorce – Frequently Asked Questions
What are grounds for divorce?
The five grounds for divorce are:
Adultery – unless you lived with your husband/wife for longer than 6 months after the adultery commenced
Unreasonable behaviour – this could include physical or verbal abuse, drug or drink addiction
Desertion – e.g. one party has walked out without reason
Lived apart for 2 years and agree to divorce
Lived apart for 5 years even if one party refuses to agree to the divorce
What are examples of unreasonable behaviour?
Some examples of unreasonable behaviour are included below: (this is not an exhaustive list)
Isolation – e.g. never socialising or spending any time together.
Separate lives – e.g. too much time spent on hobbies and work meaning no time for one another etc
Lack of sexual intercourse / affection
Addiction / Lifestyle – e.g. gambling, drugs, drink, mounting debts etc
Negative feelings as a result of verbal abuse / bullying
Unreasonable behaviour – the basics
Unreasonable behaviour is the most common reason grounds for divorce.
As with any divorce one of the crucial factors is whether the divorce is amicable (or as amicable as it can be).
Unless you satisfy other grounds, it can be difficult for one party to accept unreasonable behaviour.
It is important for both parties to note:
The divorce is private
Defending a divorce because you do not agree with the behaviours listed is a waste of time and money in most cases. A more suitable alternative is to respond to the divorce papers in the acknowledgement of service stating you will not contest the divorce but not agree to the allegations made against you.
A detailed explanation in respect of each allegation will be needed. If you are drafting this yourself aim for 3 – 6 paragraphs per allegation.
If you are the person petitioning for divorce you will need to cite the behaviour of your partner has caused the irretrievable breakdown of the marriage.
Time limits and unreasonable behaviour
You have 6 months from the date of the last incident cited as unreasonable behaviour to issue your petition for divorce.
If you have missed this deadline there are alternatives and we would recommend seeking legal advice from one of our highly recommended solicitors.
What is the divorce process?
Within the divorce process there are 3 key stages:
filing for a divorce petition
application for a decree nisi
decree absolute – which will legally end your marriage
This does not include any Consent Order (as discussed above) which needs to be drafted and filed to the Court during the process.
How long does a divorce take?
If the parties are reasonable in their attitude, and efficiency in responding to matters, then it can take 4-6 months from start to finish.
How much does a divorce cost?
It depends on which route you decide to choose, e.g. to file the divorce yourself online, or to use a DIY/online service, or to instruct a solicitor with possible mediation.
£550.00 issue fee to the Court (unless you qualify for fee remission / legal aid)
A fixed fee for a DIY/Online Divorce pack (you can do it yourself online with no additional support for free – if you use the divorce pack in our online legal document library members of My Legal Club receive a discount against this price)
If a Consent Order is required this would cost £299 plus VAT with our highly recommended panel solicitors (members of My Legal Club receive a discount against this price)
If solicitors are required to manage the whole process then they will usually quote a fixed fee. (members of My Legal Club receive a discount against this price)
Mediation would also be a fixed fee and then you need to decide whether you want to draft the relevant documents post mediation yourself or instruct a solicitor to do so. (members of My Legal Club receive a discount against this price)
"I had claims with My Legal Club and they were really helpful. It saved me a lot of money and I would use them again"
"I used My Legal Club following a car accident and they recovered compensation for me and saved me a lot in legal fees. The solicitor was excellent and they were a great help throughout. I would recommend them and certainly use them again!"
"We put two personal injury claims through My Legal Club and got great results. A really friendly and pleasant solicitor secured us good settlements and there were no deductions from our compensation saving us £1500.00"
Here at My Legal Club, our panel solicitors strive in bringing high-quality service to all our customers with their professional legal services.
Request a solicitor call back via the below contact us form, text customer services on +447984388694, or email info@mylegalclub.co.uk.
The SMS service is integrated with our customer service emails and therefore 100% confidential, safe, and secure.
Subscribe today & take advantage of our FREE trial period, with no commitment.